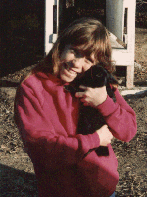 Rabbits
Rabbits Information
---
Why raising Rabbits is fun
Raising Rabbits is fun because they are very loveable. Each rabbit has his own special personality. I also enjoy taking my rabbits to shows. It is always fun to see each Judges opinion on my rabbits. But the most fun of all is winning!
---
Labor
Most often pregnant Rabbits are able to go through labor without any complications or assistance. Although it can be fatal to both the mother and her litter during labor if she has been bred to a male of a larger breed.
---
Books on Rabbits Care
The ARBA Official Guidebook to Raising Rabbits.
Raising Rabbits the Modern Way.
---
For more info on Rabbits, Look at the
House Rabbit Society WWW Server
---
Rabbit Diet
The most important part of the rabbit diet is grass hay for both adults and baby rabbits. Alfalfa or clover hays have too much protein and calcium for pet rabbits. A good-quality commercial rabbit pellet provides vitamins and minerals not available in hay. However, only a little pelleted food is needed for good health to supplement the hay. Some Fresh vegetavle may be added to the rabbit diet such as broccoli, dark leaf lettuces, parsley, and carrots with tops, and spinach.
---
Back to http://www.goats4h.com/InfoDirtRoad.html The Information Dirt Road home page

These pages were designed by Courtney of the Computer Science project of the Irvine Mesa Charros 4-H Club.